Since Thanksgiving is coming up I decided I would blog everyday about one thing I am thankful for.. I have been feeling very selfish lately and this I hope will help me to have a better attitude of gratitude..
Today being Sunday I am thankful for the gospel, today especially it seemed as though everything was directed at me. I love Sunday's like that. The testimonies shared today were uplifting, simple, and talked of gospel truths. They were pure and strengthed mine. Thanks to those who shared. In Stefan's class we talked about the Holy Ghost. It is a power that if we let it, we will only be changed for good. I know as we act upon the little promptings we will become stronger, more faithful, and a better person. Callie's lesson was also amazing. I am thankful for the words she shared. Then there was President Uchtdorf's fireside tonight.. Very inspiring.
We all are children of God. We were created to have joy, which the gospel brings. I am thankful that I feel that perfect joy as I am obedient to the gospels teachings.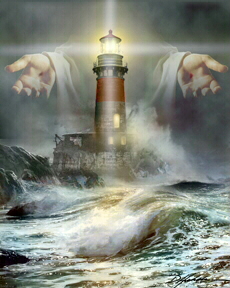 This picture is a good description of how I feel.. When life gets rough, sometimes we feel as though we are thrown around in the waves of life. I am so grateful that I have a Savior who stands as a lighthouse and leads me to where I need to be.
The gospel brings me safety.. peace... hope.. happiness... and so much more..
I am so thankful for it and how I am a better person because of it.